EXCLUSIVE HOTEL NEAR AVENUE MALL BAHRAIN
Get a shopping experience on your own doorstep at the Avenue Mall Bahrain. The Wyndham Grand Manama is located with close proximity to the avenues mall Bahrain.
WORLD-CLASS HOTEL NEAR AVENUE MALL IN BAHRAIN
Looking to get away and stay in Bahrain's finest hotels while enjoying a shopping experience right on your doorstep?
The Wyndham Grand Manama prides in offering our guests with world-class accommodation. Your stay with us is guaranteed to be unforgettable, as we can provide you with the full Bahrain experience.
Prime views overlooking this modern city, impeccable restaurants, access to the hotel's state-of-the-art features while located near the Avenues Mall Bahrain.
ABOUT THE WYNDHAM GRAND MANAMA HOTEL
The Wyndham Grand is a 5-star hotel that's making an impressive mark in Bahrain. it's architectural design and impeccable detail leaves many in awe and creates an iconic landmark and piece of art.
Uniquely located in this picturesque capital of Bahrain, the Wyndham Grand finds itself in the centre of the touristic destination of this modern city. Situated close to all amenities, namely the Avenues Mall Bahrain, World Trade Centre, Bahrain Financial Harbour, and a mere 10-minute travel from the International Airport.
Our greatest pride as a hotel is that we are the only hotel to be an alcohol-free facility, like no other. Paired with being a family driven and focused hotel, adds to the unique entity of the Wyndham Grand Manama.
THE AVENUES MALL BAHRAIN
The Avenue Mall in Bahrain is a one of kind shopping and leisure destination located uniquely on the seafront. This provides for its clients to experience an outdoor feeling while still remaining indoors. Prime views of Bahrain Bay can be enjoyed while indulging in the shopping experience, enjoying a variety of restaurants and cafes, a large family entertainment area and many more.
ROOM OPTIONS AVAILABLE
A variety of spacious rooms can be enjoyed that accommodates in every need of our guests. Modern interiors that are carefully designed, allows to experience the comfort of a home.
Featuring fitted floor to ceiling windows, overlooking the Manama skyline and Arabic Gulf. Access to leading restaurants and unique dining experiences, as well as state-of-the-art facilities to be enjoyed by guests.
EXQUISITE FEATURES AND FACILITIES AVAILABLE
A selection of cutting-edge features and facilities can be enjoyed by our guests during their stay. It's our mission to provide our guests with an unforgettable experience.
These features and facilities include:
Access to the free wireless internet
Rooms provided with Nespresso Machines
Excellent health clubs for men and women to stay fit
Three swimming pools of which 2 is outdoor and one indoor
Six Senses Spa for ultimate relaxation
Bateel Ballroom and event spaces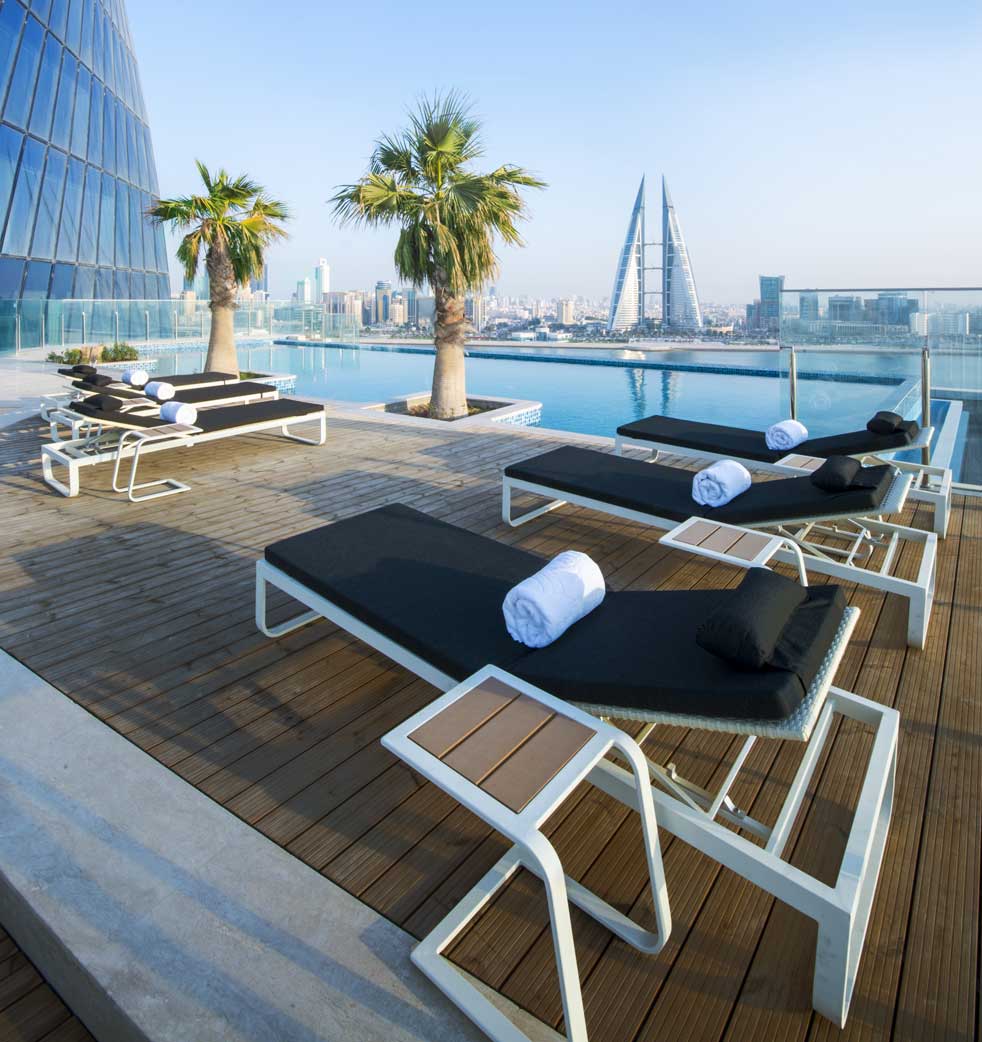 BOOKINGS
Book your room with the ground-breaking Wyndham Grand Manama today!
Do not miss the opportunity at an unforgettable but yet affordable stay with us.
BOOK YOUR ROOM
Call the hotel (+973) 1711 6116
Email us: bahrain@wyndham.com
Visit us online for more information.
Special requests are welcome.
We take the responsibility upon ourselves to provide in every need of our guests.