THE ECCENTRIC WYNDHAM GRAND FAMILY HOTEL IN BAHRAIN
The Wyndham Grand Manama offers a premium family Hotel in Bahrain. Appealing to all ages, stay at a family hotel situated in Bahrain.
Book your reservation now.
A UNIQUE EXPERIENCE FOR THE WHOLE FAMILY IN BAHRAIN
The Wyndham Grand prides in offering you with just that and nothing less. Leading family hotels in Bahrain, offering the most prestigious experience for families of all ages.
With a diverse choice of hotel rooms and apartments to accommodate in the needs of every family, it became one of the Leading family hotels in Bahrain.
Accompanied with high-quality services and facilities to allow your experience with the Wyndham Grand to be mesmerizing.
ABOUT THE WYNDHAM GRAND BAHRAIN FAMILY HOTEL
The Wyndham Grand is a ground-breaking 5-star family hotel in Bahrain. It's architectural design and detail surely creates an iconic landmark and piece of art. Competing with some of the most exclusive competitors, such as the Four Seasons Bahrain Bay, Le Meridian Bahrain and many more.
Located in the picturesque capital of Bahrain, the Wyndham Grand finds itself in the prime touristic destination of this modern city. Situated in close proximity to Manama's largest shopping centers, the World Trade Centre and a mere 10-minute drive to the International Bahrain Airport.
Unlike any other hotels in Bahrain, the Wyndham Grand prides in being an alcohol-free facility, which makes it leads all Bahrain family hotels.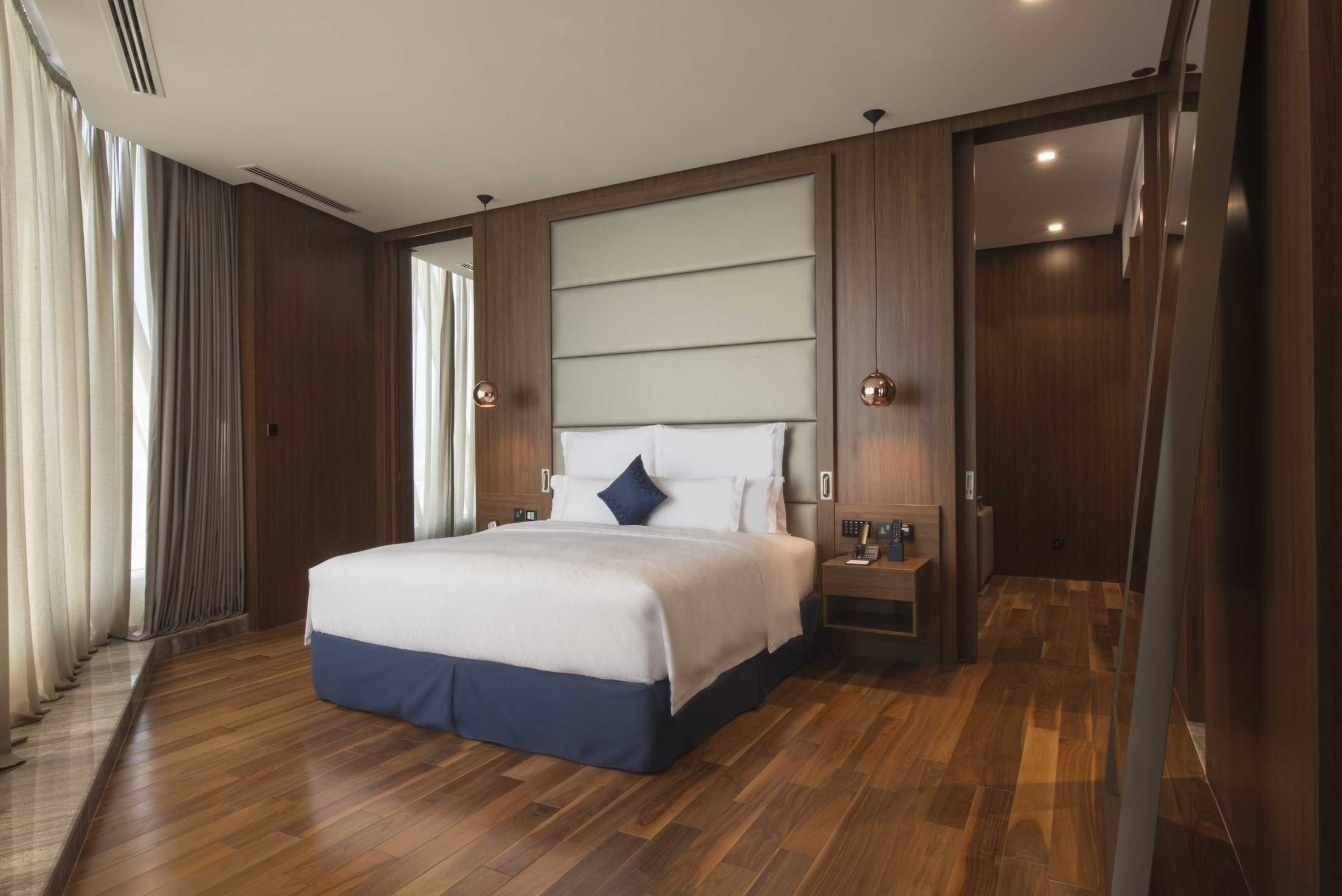 AN EXPERIENCE FOR ALL FAMILIES
We are a family focused hotel, driven to accommodate families and their every need. Yet another characteristic adding to the unique entity of the Wyndham Grand family hotel in Bahrain. Allowing for it to be the most affordable hotel experience for the whole family to enjoy at Bahrain's leading family hotel.
AN ONE OF A KIND DINING EXPERIENCE
A menu that's carefully crafted by the finest chefs, providing you with an outstanding dining experience. The Wyndham Grand Manama restaurant serves a variety of cuisines from around the world. You can enjoy a selection from either Asian, Arabic, Indian or Mediterranean cooking.
We encourage our guests to relax in style while having a live cooking experience as our talented chefs fine-craft the selected dishes. Paired with a creatively tailor-made interior that creates a comfortable and warm, but yet elegant atmosphere.
While enjoying appetizing meals, one overlooks the breathtaking views of this modern city. Combined world-class services provided by our highly trained staff.
RESTAURANT TRADING HOURS
Breakfast:
Sunday – Thursday: 6:00am – 10:30am
Friday – Saturday: 6:00am – 11:00am
Lunch:
12:30pm – 3:00pm
Dinner:
6:30 – 10:30pm
A SELECTION OF MODERN HOTEL ROOMS
At the Wyndham Grand Manama, we offer a wide selection of spacious 1 or 2 bedroom suits and modern hotel apartments to choose from. We have an option to accommodate each and every family. Providing a home experience away from home accompanied by high-end designed interiors and modern furnishing.
All suits featuring fitted with floor to ceiling windows, overlooking the Manama skyline and Arabic Gulf. Exclusive access to our world-class features and facilities to maximize you and your family's stay with us.
BOOKINGS
Book your reservation with the Wyndham Grand family hotels in Bahrain today!
Do not miss the opportunity at an unforgettable experience for you and the whole family.
BOOK YOUR TABLE
Call the hotel (+973) 1711 6116
Email dining@wyndham.com
Special requests are welcome.
We take the responsibility upon ourselves to provide in every need of our guests.